After a challenging year we are delighted to announce that WHAT WE WANTED by Ulrike Kofler and 7500 by Patrick Vollrath are nominated for the Austrian Film Award and the Romy. Congratulations to all the nominees!
Austrian Film Award: Best Supporting Actress l Best Supporting Actor l Best Direction l Best Screenplay l Best Sound Design
Romy: Best Feature Film l Best Screenplay Cinema l Best Production l Best Film Editing
we start shooting our new feature film CORSAGE written and directed by Marie Kreutzer in the beginning of March in Austria. In June the filmset will move to Luxembourg.
The high-profile cast is comprised of Vicky Krieps as Empress Elisabeth, Florian Teichtmeister as Emperor Joseph, Manuel Rubey in the role of Ludwig II, King of Bavaria and Katharina Lorenz as Marie Festetics. 
Unfortunatelly we have to postpone the cinema release of our film WHAT WE WANTED on Nov 6th due to the current situation. We hope that we'll be able to see you in cinemas again soon.
Until then, stay safe and take care!
Patrick Vollraths Feature Film Debut 7500 starts in Austrian Cinemas on January 10th. 
On Saturday march 9th we celebrated the austrian preview of KAVIAR in Hartberg with the director Elena Tikhonova, the acterss Sabrina Reiter & producer Ursula Wolschlager gefeiert.
The next opportunity to see the movie will be march 22nd and march 24th during the DIAGONALE Filmfestival in Graz, Austria. 
We are proud to announce that ANGELO won the awards for BEST MAKE-UP, BEST COSTUME DESIGN and BEST SET DESIGN at this years AUSTRIAN FILM AWARDS. 
We want to congratulate Markus Schleinzer and his team, especially Tanja Hausner, Anette Kaiser, Martin Reiter and Andreas Sobotka ! 
We are happy to announce that THE GROUND BENEATH MY FEET by MARIE KREUTZER will be the OPENING FILM at the DIAGONALE 2019. 
We are happy to announce that
ThE GROUND BENEATH MY FEET
 by MARIE KREUTZER will be screened at the upcoming edition of the 
BERLINALE FILMFESTIVAL
. 
Marie Kreutzer is again responsible for direction and screenplay and shining in the main roles: V
alerie Pachner, Pia Hierzegger and Mavie Hörbig.
TAKING IT BACK by Andreas Schmied won the AUDIENCE AWARD in the category "Stories From Abroad" at the Austin Film Festival in Texas!
TV premiere on November 13th, 20:15pm, ORF 1
SICKFUCKPEOPLE by Juri Rechinsky wins Grand Prix at Human Doc Film Festival in Warsaw, Poland!!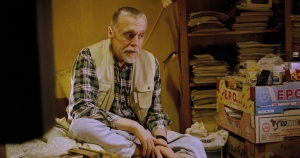 A Moment of Life (EIN AUGENBLICK LEBEN) by Anita Natmeßnig - director of 'Time to  go' ('Zeit zu gehen') - will have its theatrical release in Austria on 31st October 2014.
Find your cinema!
therapy for a vampire Germany Premiere at international hofer filmtage!
The Screening Dates are:
Wednesday, 22nd October 2014, 19:15 pm @ Central - in presence of the director David Ruehm and David Bennent
Thursday, 23rd October 2014, 22:00 pm @ Scala
Friday, 24th October 2014, 12:15 pm @ Club