Like Landkrimi VIER (Marie Kreutzer) and SACHERTORTE (Tine Rogoll), we also produced Ulrike Kofler's new feature film GINA according to the criteria of the Austrian Ecolabel. We are pleased to present some of the results of our efforts towards ecologically sustainable film production shortly before the films completion:
Shooting of the feature film INDIAN SUMMER (written & directed by Pia Hierzegger) is in full swing. It is Pia Hierzegger's debut as a director: as an actress, she has already received numerous awards, most recently the Diagonale Acting Award 2023 for Best Actress. Pia Hierzegger will also be seen in one of the leading roles alongside Ursula Strauss and Diana Amft.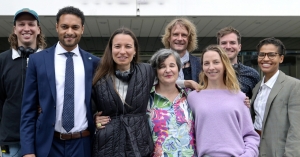 We just started shooting the new ARD-Series with the working title A BETTER PLACE in Germany. The Series explores what would happen if there were a world without prisons. The directors Anne Zohra Berrached and Konstantin Bock will shoot the 8-part sereis with theit team in Wuppertal, Mönchengladbach and Leverkusen until December. Among others with Maria Hofstätter, Steven Sowah, Katharina Schüttler, Johannes Kienast, Sandra Borgmann, Richard Sammel, Ulrich Brandhoff, Alev Irmak, Youness Aabbaz, Aysima Ergün, Cynthia Micas and Constantin von Jascheroff.
3 nutmegs for CORSAGE, 2 at the FAMILY DINNER & 1 ALMA & OSKAR premiere.
We could hoard some nuts at the Diagonale awards ceremony in Graz and celebrate the Austrian premiere of ALMA & OSKAR!